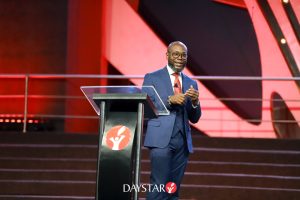 When you carry the presence of God, demonic activities are terminated, and miracles must happen where you show up.
Acts 10:38 (NLT)
Your miraculous sign is evidence that God is with you. Christ affirmed that miraculous signs would accompany those who believe. (Mark 16:17-20)

With the understanding that God is with you when you confront issues, your response should be the word of God. When you confront the realities of life with the power of God's presence, obstacles will be opportunities.
If we are not speaking God's words into the situation, God has nothing to confirm. You must speak the word of God into the situation.
It's time to carry God's light into the darkness of our world, Isaiah 60:1-2. You have the power of God in you and the presence of God with you.

Pay attention to these things

1. Align your sense of identity with God's word. See yourself as a solution provider through Christ. Your identity shapes your perspective and defines your reality. (John 9:5)
2. Prioritise God's presence. When you have found God, money, materials, and things come in easily. (Mathew 6:33)
3. Be sensitive to the Holy Spirit and move when He moves. When God's time is your time, His presence will be your presence, His wisdom will be your wisdom, and His power will be your power. (John 7:8)

As you go this week, there will be miraculous evidence around you that God has been with you.
Sermon excerpts by Pastor Boye Oloyede – Sunday, October 19, 2022.