Christmas is an exciting season of the year, the world desperately needed a Saviour, and Jesus' arrival has had a profound impact on humanity for eternity.
The arrival of Jesus was heralded by the angels, even the birth of John, the forerunner of Christ, brought great Joy (Luke 2:9-11, Luke 1:13- 17). Two births announcement after a long delay brought joy to the world.
The birth of Jesus was announced centuries after the prophetic word had gone forth. The birth of John was announced after delay in conception.
There was high expectation of the arrival of the saviour God had promised. Sickness and sin had gotten into our world, we needed a saviour.
For all have sinned and fall short of the glory of God.

~ Romans 3:23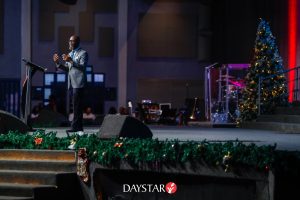 God's plan got corrupted by the entrance of sin. The world needed a saviour and is still desperately in need.  The saviour's arrival continues to provoke great joy.
We desperately need a solution in our world right now, and Christ is the solution to the sin problem, when we accept Christ our nature of sin changes. (Matthew 1:21)
Therefore, if anyone is in Christ, he is a new creation. The old has passed away; behold, the new has come.

~ 2 Corinthians 5:17
We have the capacity for joy, because our old life is gone, and we are ushered into a new life, the arrival of Jesus eroded the earth with Joy.
Everywhere Jesus showed up, there was joy. In the Bible, people encountered Jesus with sickness and were left with healing. When you encounter Jesus, you become a new creature, and the joy of salvation is in us.
And those whom he predestined he also called, and those whom he called he also justified, and those whom he justified he also glorified.

~ Romans 8: 30
Even when life pressures you from the outside, the joy of the lord bursts out from the inside. Apostle Paul said that, "We are pressed on every side but not crushed."
You can only find joy if you're looking for joy, which is why it is important to remember that you have the capacity for joy, because Jesus was introduced.
Depend on the Holy Spirit to find joy. Christ in us is the hope for God's glory.
Whatever the condition, rejoice and celebrate!
Sunday sermon excerpt by Pastor Boye Oloyede – December 25, 2022.
Watch full sermon here.