How many people can say their parents are the greatest influence in their lives?
A million? A billion?
I don't know, but here's what a friend shared with me.
On a beautiful Saturday morning, she was thinking about this month's theme – The influencer; and wondering who has had a significant influence on her. Then it hit her: her father. Before giving it some thought, she had no idea he had such a huge influence on her.
I know that you're probably wondering how he came to be the most powerful person in her life.
She grew up knowing he read a lot, from newspapers to magazines and anything he could lay his hands on. She often heard him discuss with people in various fields with such confidence and insight that it was mesmerising.
He was her hero and she wanted to be like him!
Like him, she began reading everything she could get her hands on. This allowed her to connect with him on a deeper level – they would sit together and discuss what she had read.
This shaped her life and defined her career path. Today, she is a writer and communication specialist because of a father who not only showed her how but also nurtured her talent.
This week, Daystar turns 27 and what better way to show the world that we are role models; if not by sharing what you will call #MyDaystarStory, and making sure the #DaystarAt27 is trending on all platforms. Let's go BIG this week.
Hold this word close to your heart;
"Show yourself in all respects to be a model of good works, and in your teaching show integrity, dignity."  ~ Titus 2:7
As we continue our series 'The Influencer,' we are inviting you to fellowship with us live from anywhere in the world via live.daystarng.org or on any of our social media platforms – YouTube, Facebook, Twitter, or Instagram.
Quick one!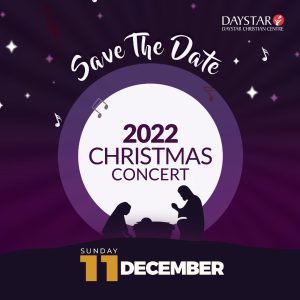 What are you doing on Sunday, 11 December 2022?
Exclusive tip; don't plan anything for that day just yet, because the Daystar legendary Christmas concert is happening.
Yay! Now you can save the date.
See you in service today.